Viewing
521
to
(
549
Total)
Microsoft Windows 8.1 will be available to manufactures in late August, just weeks after revealing a preview version of the software.

Speaking at the company's Worldwide Partner Conference (WPC) in Texas, Windows CMO and CFO Tami Reller confirmed the release will be available for OEM partners in just over a month.


"This means OEMs will be able to get the RTM bits and begin preparing devices with Windows 8.1 just in time for the holidays," Reller said.

"We'll have more details to share in the coming months for consumers and other customers on how to get Windows 8.1.

"As you have heard, Windows 8.1 is an update that refines the vision of Windows 8."

Two weeks ago, Reller announced the Windows 8.1 Preview for people to try out, and now the Windows chief reiterated the momentum Microsoft is seeing today with Windows 8.

"We now have more than 20 million enterprise evaluations and that Windows 8 has logged 60 billion hours of use," she claimed.

Reller also announced that in January 2014, Microsoft will be launching the User Experience Design Competency.

This competency will provide a way for partners to train their designers and get recognised for their expertise with the Microsoft Design Language.

Finally, she announced a brand new program called TouchWins – Microsoft's new commercial channel incentive for featured Windows devices.

Through this program, the software company will provide incentives to authorised distributor and reseller partners who sell Featured PCs and tablets with Windows 8 Pro and touch.

Will Windows 8.1 be a hit?

Link to article: http://techday.com/the-channel/news/windows-8-1-set-for-august-ship...
Posted on July 11, 2013 at 4:01 PM
Given the hype surrounding the unveiling of the Mega Android app, we got out best man on the job to give his unbiased view on Kim Dotcom's latest release.

Firstly, to clear the air: yes, Kim Dotcom is in some way involved in Mega. No, that's not actually relevant, at least not for the purposes of this review. He won't be mentioned again.




Mega is a browser-based cloud storage service. You sign up, upload your stuff, they look after it for you. The first 50mb are free, you pay beyond that. All pretty straight forward.

The Mega app is, as you'd expect, an app that lets you access this service from your phone or tablet. You can either use it to log in to an existing Mega account, or sign up for a new account via the app.

I'd already made an account through the website so I just had to log in, and it was very easy. When you sign in you're presented with a list of files that you've uploaded.

Tapping a file automatically starts it "downloading to your device", although it doesn't seem to actually save the file to your device.

Once you've 'downloaded' it you get a few options – for a jpg these were to look at it in gallery, attach it to an email, open it in Pixlr Express and so on – but none of these seemed to involve actually saving it to your phone's memory. Instead it just loads it from the Mega storage.

After I exited the Mega app I couldn't find the file anywhere on my phone, and could not find a way to put it there.

Maybe that doesn't matter – after all, I can look at the file, send the file, even edit and resave the file – it shouldn't matter that I can't just download the file as is.

But for some reason it bothers me in a way I can't quite explain. Perhaps it's because it tells you the file is 'downloading' – if so, then where is it?

Maybe my complaint is just a semantic one, or maybe I don't understand enough about cloud storage apps. But when I tried to rectify this by looking for a help menu, this was sorely absent.

There doesn't seem to be a help menu anywhere in the app, and the help section of the Mega website just says that you can expect 'cool custom apps' in the near future.

It should be noted that the website still says 'beta' at the top though, so we can perhaps forgive the odd teething hitch in its early stages.

Overall, the app works. I could get at my previously uploaded data, and do enough with it that it was useful. Uploading more files from a phone is straightforward – just choose the file you want, and hit upload.

If they changed the word 'downloading' to 'loading' when it loads your files, and perhaps added a help menu either here or on their website, I'd have no complaints at all – and as it is my complaints are pretty minimal.

What do you think of the app?

Link to article: http://techday.com/netguide/news/android-app-review-mega/165634/?ut...
Posted on July 11, 2013 at 3:59 PM
Faster internet speeds are now within reach of almost two-thirds of Kiwi homes and businesses, as Telecom begins offering Ultra VDSL to customers.

The country's largest broadband provider says the deal, effective immediately, "offers the best internet experience currently available via traditional copper phone lines."


The introduction of VDSL, which stands for Very-high-bit-rate Digital Subscriber Line, will now allow customers on Telecom Ultra VDSL to download files and online content on average around three times as fast, and upload nearly ten times as fast, as conventional (ADSL) broadband.

Chris Quin, Telecom Retail CEO believes that VDSL will give customers a taste of the significant benefits that fibre will bring as the government-led UFB rollout continues.

"Our customers tell us that they want faster, better broadband, and they want it now," he says.

"While we are convinced that fibre will be the main driver of New Zealand's future internet connectivity, fewer than one in ten Kiwis can get fibre today and its availability will not match that of current broadband infrastructure for three or four years yet, by current estimates.

"In contrast, around 60% of New Zealanders currently live and work in areas where VDSL is a great solution for better, faster broadband right now.

"VDSL can play a vital role in satisfying consumers' immediate demands for a smoother, faster internet experience."

Telecom Ultra VDSL packages start at $95 per month for a 80GB plan, with the largest data plan – 500GB – costing customers $129 per month.

The telco says these prices are comparable to Telecom's Ultra Fibre products and at a slight premium to standard broadband.

The company also recently announced it had boosted all 50GB broadband plans to 80GB at no extra charge after securing a partnership deal with English Premier League providers Coliseum Sports Media.

Quin says customers signing up for Telecom Ultra VDSL will have a technician visit their home or business premise to install a master splitter on their wiring and set-up a new VDSL capable modem, "a relatively minor job which will usually take no more than an hour or two," he claims.

For home customers there will be an installation fee of $99, while business customers can access VDSL at the same price as standard Business ADSL plans with a $199 installation fee.

Stepping Stone
As Telecom views VDSL as a stepping stone to fibre when it becomes available in a particular area, the company has committed to ensuring Ultra VDSL customers have the flexibility to upgrade their connection when making the decision to shift to Telecom Ultra Fibre in the future.

"Ultra Fibre's even greater speed, capacity and consistency of service (as well as lower latency) than copper broadband means it will be the connection of choice for customers with a rapidly growing demand for data," the telco claims.

In addition, the Government's ongoing Rural Broadband Initiative (RBI) is rolling out broadband infrastructure to many smaller towns and rural communities over the next few years.

These communities, which are not part of the UFB rollout, will have access to VDSL through Telecom at the same time as they get broadband availability.

Quin noted that VDSL availability was not as pervasive as conventional ADSL broadband, as users need to be within a one kilometre distance of their nearest telephone exchange or cabinet for the technology to work effectively.

"The products, services and experiences our customers love, such as streaming entertainment programming, sports viewing, social media and real-time business applications, are increasingly going online," he says.

"We recognise our role in ushering in this new era of internet connectivity with the best online experiences possible via the best communications technology on offer."

Customers can check VDSL availability in their area using Telecom's address checker, available athttp://www.telecom.co.nz/addresschecker...

What do you think of the VDSL launch?

Link to article: http://techday.com/telco-review/news/ufb-bigger-better-faster-stron...
Posted on July 11, 2013 at 3:57 PM
NTSB: Flight attendants ejected during crash


Two flight attendants in the back of Asiana Airlines Flight 214 survived despite being thrown onto the runway when the plane slammed into a seawall and lost its tail during a crash landing at San Francisco's airport, the head of the National Transportation Safety Board said.

Chairwoman Deborah Hersman also revealed that the pilots told investigators they were relying on automated cockpit equipment to control their speed during final approach, which prompts questions about whether a mistake was made in programming the "autothrottle" or if the equipment malfunctioned.

The plane crashed when it came in too low and slow for landing. Hersman said the pilot at the controls was only about halfway through his training on the Boeing 777 and was landing that type of aircraft at the San Francisco airport for the first time ever. And the co-pilot was on his first trip as a flight instructor.

The crash killed two people but remarkably 305 others survived, most with little or no physical injuries. A final determination on the cause of the crash is months away and Hersman cautioned against drawing any conclusions based on the information revealed so far.

Audio recordings show pilots tried to correct the plane's speed and elevation only until seconds before hitting the seawall at the end of the runway, a calamitous impact that sent the fuselage bouncing and skidding across the airfield.

Here is what is known:
Seven seconds before impact, someone in the cockpit asked for more speed after apparently noticing that the jet was flying far slower than its recommended landing speed. A few seconds later, the yoke began to vibrate violently, an automatic warning telling the pilot the plane is losing lift and in imminent danger of an aerodynamic stall. One and a half seconds before impact came a command to abort the landing.

The plane's airspeed has emerged as a key question mark in the investigation. All aircraft have minimum safe flying speeds that must be maintained or pilots risk a stall, which robs a plane of the lift it needs to stay airborne. Below those speeds, planes become unmanoeuvrable.

Because pilots, not the control tower, are responsible for the approach and landing, former NTSB Chairman James Hall said, the cockpit communications will be key to figuring out what went wrong.

"Good communication with the flight crew as well as the flight attendants is something I'm sure they're going to look at closely with this event," he said Tuesday. "Who was making decisions?"

Hall was on the transportation board when a Korean Airlines Boeing 747 crashed in Guam in 1997, an accident investigators blamed in part on an authoritarian cockpit culture that made newer pilots reluctant to challenge captains.

Since then, the industry has adopted broad training and requirements for crew resource management, a communications system or philosophy airline pilots are taught in part so that pilots who not at the controls feel free to voice any safety concerns or correct any unsafe behaviour, even if it means challenging a more senior pilot or saying something that might give offense.

If any of the Asiana pilots "saw something out of parameters for a safe landing," they were obligated to speak up, said Cass Howell, an associate dean at the Embry-Riddle Aeronautical University in Daytona Beach, Fla.

"There are dozens and dozens of accidents that were preventable had someone been able to speak up when they should have, but they were reluctant to do so for any number of reasons, including looking stupid or offending the captain," said Howell, a former Marine Corps pilot.

There's been no indication, from verbal calls or mechanical issues, that an emergency was ever declared by pilots. Most airlines would require all four pilots to be present for the landing, the time when something is most likely to go wrong, experienced pilots said.

"If there are four pilots there, even if you are sitting on a jump seat, that's something you watch, the airspeed and the descent profile," said John Cox, a former US Airways pilot and former Air Line Pilots Association accident investigator.

Investigators want to nail down exactly what all four Asiana pilots were doing at all times.

"We're looking at what they were doing, and we want to understand why they were doing it," Hersman said Monday. "We want to understand what they knew and what they understood."

It's unlikely there was a lot of chatter as the plane came in. The Federal Aviation Administration's "sterile cockpit" rules require pilots to refrain from any unnecessary conversation while the plane is below 10,000 feet so that their attention is focused on taking off or landing. What little conversation takes places is supposed to be necessary to safely completing the task at hand.

Choi Jeong-ho, a senior official for South Korea's Ministry of Land, Infrastructure and Transport, told reporters in a briefing Tuesday in South Korea that investigators from both countries questioned two of the four Asiana pilots, Lee Gang-guk and Lee Jeong-min, on Monday. They planned to question the other two pilots and air controllers Tuesday.

Choi said recorded conversation between the pilots and air controllers at the San Francisco airport would be investigated, too.

In addition, authorities were reviewing the initial rescue efforts after fire officials acknowledged that one of their trucks might have run over one of the two Chinese teenagers killed in the crash. The students, Wang Linjia and Ye Mengyuan, were part of a larger group headed for a Christian summer camp with dozens of classmates.

Asiana President Yoon Young-doo arrived in San Francisco from South Korea on Tuesday morning, fighting his way through a pack of journalists outside customs.

He said he will look at the efforts of airline employees to help injured passengers and their family members, visit with the NTSB and other organisations to apologize for the crash and try to meet injured passengers.
Yoon said he can't meet with the Asiana pilots because no outside contact with them is allowed until the investigation is completed.

More than 180 people aboard the plane went to hospitals with injuries. But remarkably, more than a third didn't even require hospitalisation.

The passengers included 141 Chinese, 77 South Koreans, 64 Americans, three Canadians, three Indians, one Japanese, one Vietnamese and one person from France.

South Korea officials said 39 people remained hospitalized in seven different hospitals in San Francisco.


The flight originated in Shanghai, China, and stopped over in Seoul, South Korea, before making the nearly 11-hour trip to San Francisco.

- AP
Link to article: http://www.nzherald.co.nz/world/news/article.cfm?c_id=2&objectid=10...
Posted on July 11, 2013 at 8:59 AM
Massive coastal erosion up and down the West Coast has dramatically reduced the habitat of little blue penguins and in places has left them with 3m banks to climb up to reach their burrows, the West Coast Blue Penguin Trust says.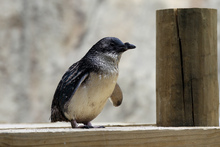 Coastal erosion on the West Coast is forcing little blue penguins to tackle 3m-high banks to reach their burrows. File Photo / APN

The West Coast Regional Council yesterday voted to spend $1.5 million on a seawall to protect Hokitika, and the Grey District Council recently dumped $20,000 of rocks along the foreshore at Blaketown and Karoro. An estimated 100m of land has also gone just north of the Taramakau River.

Penguin trust chairwoman Kerry-Jayne Wilson said erosion on many sandy beaches had created cliff faces of up to 3m along parts of the West Coast.

Department of Conservation marine scientist Don Neale, of Hokitika, said erosion and the rockwork to control it had increased on the Coast.

"The often scrubby areas penguins like to nest in are now being eroded and all that they are left with is the farmland behind."

Penguin trust co-ordinator Inger Perkins said the birds would need to find another way up to their burrows.

- The Greymouth Star
Link to article: http://www.nzherald.co.nz/nz/news/article.cfm?c_id=1&objectid=10896...
Posted on July 11, 2013 at 7:52 AM
Published: 3:21PM Monday July 08, 2013Source: ONE News

Ten people were killed when a floatplane crashed and burst into flames at an airport in the Alaska Kenai Peninsula town of Soldotna, officials said.

No survivors were found, according to the Soldotna Police Department. The plane, a de Havilland DHC3 Otter, was operated by a local air-taxi company, Rediske Air, the US Federal Aviation Administration said.

The plane crashed at the Soldotna airport at about 11:20 am local time, the FAA said. It was initially unclear whether the plane was departing or landing at the time, the FAA said.

The FAA and the National Transportation Safety Board will investigate, officials said.

Victims' names were not released on Sunday. Police said they were still trying to identify the victims and locate family members.
Rediske Air provides sightseeing charters and air-taxi services, according to a profile with the Better Business Bureau. The mountainous Kenai Peninsula, south of Anchorage, is a popular destination for tourists, fishermen and hikers.
Posted on July 09, 2013 at 8:51 AM
This amazing photo has just come in from Tim Delany, who is Winter Technical Support, working at Antarctica New Zealand's Scott Base.


Tim visits the Arrival Heights lab several times a week as part of his role to check and maintain the long running scientific experiments that are housed there.

The cloud cleared for the first time this week as he did his rounds and revealed a stunning Aurora Australis lighting up the starry sky. He used a long exposure to capture the Aurora...and this has enhanced the light effects in the pitch black day/night sky!


Current Weather (Friday PM NZT)

* -40 degrees Celsius
* 40km/h NNW winds
* Barometer is steady at 988.6hPa

The guys are wrapping up in full ECW (extreme cold weather) clothing when they go outside the base…inside the base it is a steady 18 degrees Celsius year round.

- Antarctica NZ
Posted on July 07, 2013 at 9:27 PM
Genesis Energy has secured resource consents for what would be the largest wind farm in New Zealand, a 286-turbine development in a remote part of Wairarapa.

However, low demand growth for electricity means it is unlikely to be built for many years.

"With a 10-year lapse period and a 10-year construction period, the Castle Hill wind farm is a long term development option," said chief executive Albert Brantley in a statement which confirmed there were no immediate plans to start construction.

Capable of producing 860 megawatts of electricity at full production, the development would dwarf the largest wind farm in New Zealand, Meridian Energy's 62-turbine 143MW West Wind development in the hills west of Wellington.

Castle Hill would be sited north of Masterton and west of Eketahuna and is close to Contact Energy's proposed 177MW wind farm at its Waitahora site, Mighty River Power's proposal for a 318MW wind farm at Puketo, TrustPower's Tararua wind farm, rated at 161MW, and a Meridian proposal for a 60MW wind development to the south, at Mt Munro.

None is in prospect of being built in the near future.

Opponents had appealed against resource consents granted by the Masterton and Tararua District Councils, the Greater Wellington and Horizons Regional Councils in June last year.

But Thursday's announcement follows the resolution of outstanding issues by mutual agreement rather than Environment Court hearings.

Energy Minister Simon Bridges welcomed the announcement as "a major boost" for renewable energy investment, in line with a target to generate 90 percent of electricity from renewable sources by 2025.
- NZN
Posted on July 07, 2013 at 9:16 PM
Updated 1:31pm --- A Boeing 777 crash landed at San Francisco airport this morning, killing at least two people, injuring 181 and forcing passengers to evacuate as flames tore through the plane.

Many injuries were minor, but passengers and possibly some crew were reportedly treated for burns and other injuries

10 people remain in hospital and their condition remains "critical".

A NZ Ministry of Foreign Affairs and Trade (MFAT) spokesman said no New Zealanders were on board.

It appears the plane crash landed early - hitting the jetty before the runway starts (in the harbour), snapping the tail off and causing the plane to lose control.

Eyewitnesses say the plane then lost control, crashing, then sliding to a stop near the start of the runway where it initially crashed. It then erupted into flames according to eyewitnesses.

An eyewitness on a plane that had just landed on a parallel runway said the tail hit the ground first, the plane appeared to bounce, then the tail and an engine came off, before the plane spun around and burst into flames from the centre.

Reuters says onboard the plane 141 were Chinese citizens, 77 South Koreans and 61 US citizens.

There are reports - still not confirmed - of 291 passengers on board and 16 crew members.



Early reports suggest the plane was too low - and looks as though it could have almost crashed short of the runway in the sea.

San Fran is the 10th busiest airport in the US and has the largest international terminal in the nation.
Image / David Eun, Twitter

As of 11:30am Sunday NZT two of the four runways at SFO were open.

WeatherWatch.co.nz says those flying from Auckland to San Fran should check with their airline for the latest travel details.

The plane that crashed was operated by Asiana Airlines from Seoul South Korea and crashed while landing in calm, sunny, weather.

Some passengers were in need of burn treatment reports local TV.

Some experts believe the aircraft was coming in too low or with too little power. Some suggest there was turbulence near the start of the runway too - another smaller aircraft that landed just seconds before the 777 crashed had suddenly veered left right on landing, according to a passenger, due to what she was "turbulence" - however she stressed the plane she was on was much smaller.




- Screengrabs via CNN, ABC and local TV
- WeatherWatch.co.nz with NZ Herald & FNC
Posted on July 07, 2013 at 8:58 AM
New Zealand is on track for a record low annual drowning toll on the back of fresh figures showing 15 fewer people have died in the water so far this year.

The mid-year numbers indicate 40 people drowned in the first six months of the year, down from 55 at the same time in 2012.

Two regions, Canterbury and Taranaki, have yet to record any deaths despite seven and five respectively drowning in those regions last year.

Water Safety New Zealand chief executive Matt Claridge says while it's always positive to see a drop in drownings, the number was still too high.

He pointed to other statistics showing Otago had recorded three deaths to date, already surpassing its 2012 toll of two. And Northland, at five deaths, is just one short of last year.

Men made up 72 percent of the mid-year toll. A third of the victims died at beaches. Four children, including two preschoolers, were among the dead.

Mr Claridge warned swimmers to know their limits, watch the conditions, wear a life jacket, abstain from alcohol and always keep kids within arm's reach.

"I'll be repeating these same safety messages until the drowning toll is zero," he said.

Last year's toll was 98, a drop from 2011 when 131 people drowned, the highest annual toll since 2003.
Posted on July 06, 2013 at 9:17 PM
Exactly 50 years after 23 passengers and crew members died when their plane crashed into the Kaimai Range, family members will gather at a memorial to remember them.


Today marks the 50th anniversary of New Zealand's worst internal air disaster, which cost the lives of three crew members and 20 passengers on their way from Auckland to Tauranga.

Flight 441, a National Airways Corporation DC-3, crashed into the Kaimai Range at about 9am on July 3, 1963 with many on board planning to attend business trips or visit family.

An inquiry into the crash found it was probably caused by a strong downward current in the Kaimais which carried the aircraft below the tips of the hills, according to the Flight Safety Foundation.

As a result, the plane experienced severe turbulence which made it impossible for the pilot to regain control.

Today, a 40-minute memorial service will take place at the memorial plaque on Old Te Aroha Road from 9am to remember those killed in the crash.

It will be followed by two memorial fly-pasts by the Warbirds Dakota.

Family of the 23 people killed in the crash will attend the ceremony, as well as members of the public.

- NZN
Posted on July 06, 2013 at 8:50 AM
Editor's note: Chris Field is the director of the Department of Global Ecology of the Carnegie Institution for Science and co-chair of a working group tasked with assessing climate change impacts, adaptation, and vulnerability for the Intergovernmental Panel on Climate Change (IPCC).

ATLANTA -- The goals President Barack Obama set out Tuesday in his Climate Action Plan -- including cutting pollution from coal plants and aggressively pursuing clean energy alternatives -- won't solve all the challenges of climate change, but they are a big first step in protecting the planet from its worst effects. Getting serious about solutions is critically important, especially now and especially for the United States.

Why the rush? Climate change is driven by emissions of a range of heat-trapping gases, especially the total emissions of carbon dioxide, which have been pumping out since the beginning of the Industrial Revolution. How much? Through 2012, that total is about 1,700 billion tons of carbon dioxide from fossil fuel combustion and cutting down forests. In 2012, carbon dioxide emissions in the U.S. were 19.4 tons per person or about 750 pounds per person per week.

Per capita carbon dioxide emissions in the U.S. may be lower now than they were in 1990, but the average American still emits three times the global average. Global annual carbon dioxide emissions continue to grow rapidly, with emissions in 2012 more than 50% above 1990 levels.


Recently, and for the first time in more than 2 million years, the concentration of carbon dioxide in the atmosphere climbed above 400 parts per million, 37% higher than in 1800. The resulting global warming, about 1.5 degrees Fahrenheit, will persist for at least 1,000 years.

With every passing year, the pool of total carbon dioxide emissions grows bigger, causing more warming -- and more warming leads to greater damages from climate, weather extremes like heat waves, heavy rainfall, and coastal storm surge, as well as altered crop yields, threats to human health, and increased risks of wildfire.

The first step? Address the root of the issue, and this is why the action Obama outlined is smart. The plan recognizes the breadth of the problem and focuses on a wide range of emissions sources. It also recognizes that not all the damages can be avoided and that building resilience needs to be a part of the package.

Taking action now is also cost-effective. Slowing and eventually stopping emissions will take time. The global energy system producing most of the carbon dioxide emissions is massive, and includes thousands of power plants and more than a billion vehicles. The components of the energy system are long-lasting: Cars are driven for one to two decades. Power plants are designed to run for up to a half-century. Buildings, which use energy for heating, cooling, lighting, and running equipment, can stand for a century or more.

As things stand now, these realities commit us to continuing emissions into the future. Each new coal-fired power plant that goes online or inefficient vehicle that hits the road extends that commitment. In principle, we can retire existing infrastructure -- like energy-inefficient buildings and carbon-intensive power plants -- early, but such a rapid transformation of an entire energy system would be exorbitantly expensive, essentially because it involves scrapping equipment that has not lived out its useful life.

Building the energy system for the 21st century ambitiously but gradually, starting now, controls the costs by building for the long run and by enabling markets to innovate and drive down costs.

Why is U.S. leadership so important? First, the United States has the necessary skills in science and technology, the tradition of innovation, and the mature capital markets to boldly seize opportunities. Building the energy system of the 21st century is perhaps the greatest business opportunity of the era. It will involve a wide range of technologies that emit little or no carbon dioxide, with greatly increased energy efficiency in vehicles, buildings, and equipment.

Second, the U.S. is the only nation that can truly focus the world's attention on the climate problem. When the U.S. hangs back, it is easy for other countries to question goals or get tangled in internal politics.

U.S. leadership is critical in supercharging the international effort. Today is the day to start.

- Image / Christine Johnson
- CNN.com
Posted on July 06, 2013 at 7:55 AM
How do the outer reaches of the sun get so hot? That's one of the questions that NASA has set out to answer by launching a new telescope that will stare into a mysterious zone between the sun's surface and outer atmosphere.

Material that travels through the region, known as the solar chromosphere, heats up from about 10,000 degrees Fahrenheit (5,500 degrees Celsius) at the sun's surface to temperatures as high as 3.5 million degrees Fahrenheit (2 million degrees celsius) farther out, according to NASA.

The agency says its IRIS spacecraft, which reached its orbit Thursday evening after taking off from Vandenberg Air Force Base in California, will angle its telescope to study "how solar material moves, gathers energy and heats up" in the chromosphere on its way to the outer atmosphere, the corona.

"IRIS will show the solar chromosphere in more detail than has ever been observed before," Adrian Daw, deputy project scientist, said in a NASA article ahead of the launch. "My opinion is that we are bound to see something we didn't expect to see."

What causes the corona's intense heat has been "a scientific mystery for more than 50 years," according to NASA's Solar System Exploration unit. Information gathered by previous space missions suggests one source could be a magnetic field covering the sun's surface, the unit says.

Scientists are also interested in the chromosphere because it generates most of the sun's ultraviolet rays that affect Earth's climate.

The data gathered by IRIS, which stands for Interface Region Imaging Spectrograph, will add to the work of two other missions that will monitor the sun's surface and outer atmosphere.
Posted on July 05, 2013 at 9:46 PM
Our everyday concerns -- what's for dinner, what to update on Facebook -- seem small when we consider that there's a whole universe out there where other life may exist.

Astronomers now are upping that likelihood, announcing that they've identified a star system with up to seven planets -- three of which could potentially host life -- 22 light-years away.

The likelihood that conditions could support life on at least one of those planets, given that there are three terrestrial-mass planets in the habitable zone of one system, is "tremendous," according to at least one scientist. The "habitable zone" is the area near a star in which a planet can theoretically hold liquid water. In our own solar system, Venus is close to the inner edge of potential habitability, while Mars is closer to the outer edge.

The discovery is the largest number of "habitable zone" planets ever found within a single system, said Guillem Anglada-Escude of the University of Gottingen, Germany, who led the team of astronomers.


The findings were published Wednesday in the journal Astronomy & Astrophysics.

The findings are only the latest in a recent string of identifications of planets that may host life.

"As soon as our telescopes and data analysis tools have become sophisticated enough to find them, habitable planets are popping up everywhere," said Sara Seager, professor of planetary science at Massachusetts Institute of Technology, who was not involved in the study. "It's simply exhilarating to know that potentially habitable planets are ubiquitous."

What are these planets like?
The three planets orbit a star called Gliese 667C, part of the triple-star system Gliese 667. They are between four and eight times the mass of the Earth, making them "super-Earths."

If you were standing on any of the potentially habitable planets in this system, that sun would appear as a bright red star. The other two stars in the system "would look like a very bright pair of stars providing as much illumination as the full moon on Earth," Anglada-Escude said.

The planets are likely either rocky or water worlds, meaning they're entirely covered in water. These particular planets also appear to be "tidally locked," meaning the same side of a planet is always facing a star. That means one side of the planet always gets light and the other hemisphere is always in darkness.

"With three terrestrial-mass planets in the habitable zone, the likelihood of one of them actually being habitable is tremendous," Seager said.

The system also likely consists of two hot planets further in and two cooler planets orbiting further out, although scientists are less certain that the seventh planet exists.

Scientists determined these characteristics of the star system using new observations gathered from the W. M. Keck Observatory and the Magellan Telescope, with existing data from the European Southern Observatory's HARPS instrument in Chile.

Before, scientists had determined that the star Gliese 667C had three planets with one that could be a candidate for life.

The Gliese 667C star is about one-third the mass of our sun with about 2% of its luminosity, meaning it is much fainter. But all three of the potentially habitable planets, and their neighbors in their solar system, lie within the equivalent of the orbit of Mercury, meaning they are much closer to the host star than planets in our solar system.

If they orbited our sun, the Gliese 667C planets' surfaces evaporate and burn. But they may be habitable because their sun is so much smaller and dimmer.

"It's an extreme scaled down version of the solar system," Anglada-Escude said.

Scientists said the findings suggest that stars with low mass such as Gliese 667C are the best targets for looking for planets that could host life. About 80% of the stars in the Milky Way are in this category of low mass. It's possible that there are many more of these systems that are packed with potentially habitable planets.

How they compare to other habitable planets
The Gliese 667C trio represents candidates for life that are about as good as three announced in April by scientists working with NASA's Kepler satellite. Kepler-62e and Kepler-62f both orbit the same star, Kepler-62, which is slightly cooler and smaller than our sun. The Kepler-62 star, however, is 1,200 light-years away.

These two planets are closer to the size of Earth than the third habitable candidate, Kepler 69c. It's less clearly in the habitable zone than the other two, and its sun is 2,700 light-years away from us.

That makes Gliese 667C seem like a stone's throw away by comparison, at 22 light years -- but that's still about 129 trillion miles. In the night sky, the system can be found in the Scorpius constellation.

The Kepler satellite has been keeping an eye on more than 150,000 stars much further away, but on May 15, NASA announced that a reaction wheel -- a part that helps aim the spacecraft -- stopped working. The most recent update, from June 7, says the spacecraft is in Point Rest State, after a second wheel was unable to preserve fuel for an eventual recovery effort. Immediate safety is not as issue, and a team is going to manage the wheel recovery efforts.

The Kepler space telescope, launched in 2009, allows scientists to measure changes in brightness of individual stars over time; these dimming events signal that a planet is nearby. Scientists undertake sophisticated calculations to verify that such signals are planets and not passing rocks.

"Scientists undertake sophisticated calculations to verify that such signals are planets and not astrophysical phenomena mimicking the signature of a planet," Anglada-Escude said.

By contrast, scientists who worked on the Gliese 667C system used the radial velocity method. With this, scientists look for wobbles in the motion of a star, which happens in response to the gravity of nearby planets.

How about all of those other planets that have been found previously to be in the habitable zone?

You may recall planet Kepler-22b, which was announced in December 2011 and also was hailed as a potential candidate for hosting life. That planet had a radius 2.4 times that of Earth and is 600 light-years away.

There is also a planet called Gliese-581g, discovered in September 2010, which is thought to be even more like Earth than Kepler-22b in terms of its suitability for plants and animals. It's only 20 light years from Earth, though there has been some controversy about its existence. In its solar system there is another planet, Gliese-581d, that is also of interest in the search for life, according to the Planetary Habitability Laboratory at the University of Puerto Rico at Arecibo. The group's catalog lists a few other candidates.

But do they really have life?
Because they are so far away, the composition of the atmospheres of all of these planets outside our solar system remains unknown. Whether life truly roams or swims out there is still to be seen.

"Whether the planets are actually habitable would be pure speculation," Seager said. "There's currently no way to observe surface liquid water (our habitability requirement) or even infer the presence of surface liquid water."

Still, Anglada-Escude says the existence of star systems packed with potentially habitable planets, and the diversity of planets that Kepler has found, suggest there are more exciting discoveries yet to come.

- Follow Elizabeth Landau on Twitter at @lizlandau and for more science news follow @CNNLightYears

See images here via CNN
Posted on July 05, 2013 at 9:28 PM
An All Nippon Airways 787 Dreamliner was held in Tokyo after a mechanical problem, the fourth such incident for Dreamliners in 10 days.

The plane was delayed Thursday (Friday NZT) after a cockpit message indicated a problem with the power supply to its air-conditioning system.

More than 100 passengers who were supposed to fly to Frankfurt departed on a different plane eight hours after the scheduled departure time, ANA said.

Earlier this week, a Denver-bound United Airlines Dreamliner was diverted back to Houston after a problem with its brake indicator.

A week before, two United Dreamliners made unscheduled landings.

A flight from Denver to Tokyo was diverted to Seattle because of an indicated problem with its oil filter.

And a Houston-bound flight from London made an unscheduled landing at Newark's Liberty International Airport due to a "low oil indication."

In each case, the plane landed without incident and with no passenger injuries, Boeing said.

The incidents come six months after the Federal Aviation Administration and other officials grounded the Dreamliner worldwide due to troubles with its battery system.

"The 787 is a great airplane and we know it will continue to receive heightened attention when reliability events occur in service," Boeing spokesperson Yvonne Leach said Sunday.

[B]Additional Dreamliners[B]
The 787 Dreamliner began service in the U.S. in 2012.

The entire global fleet of 50 Dreamliners was grounded in January after two battery overheating incidents triggered concerns among safety officials.

Among the Dreamliner's innovative designs is a battery system that uses new, lightweight lithium-ion batteries.

In April, the FAA ordered all 787 operators to make specific modifications. United has been flying its fleet of six 787s since May 20.

United is the sole U.S. operator of the airplane, which boasts high fuel efficiency due to the lightweight carbon-composite materials used in its wings and fuselage.

In an apparent show of confidence in the new airliner, United announced Tuesday that it's ordering 20 additional Dreamliners, specifically the 787-10 model, a longer version of the plane.

The plane represents a new generation of efficient wide-body, long-range aircraft, helping to make it among the world's most heavily scrutinized aircraft.

Airlines worldwide have committed to buying the plane, and hundreds of millions of dollars are riding on Dreamliner's success.

On June 14, Boeing rival Airbus flew a similar airliner, its highly anticipated A350 XWB, for the first time at its facility in Toulouse, France.

- CNN.com
Posted on July 05, 2013 at 8:46 AM
When Aaron Wilkinson decided to move to Mt Somers this year, it was not just the affordable real estate prices, nor the manageable 70-minute drive to Christchurch that was the attraction.

The 27-year-old stormchaser and weather forecaster had his eye on the sky when he made the move.

"There's something about Canterbury thunderstorms, they tend to form in some areas slightly more often than others, and Mt Peel and Mt Somers - they tend to brew in that area."

Wilkinson was reasonably familiar with the area from childhood trips to visit his grandfather in Cave, and then Geraldine. So, he looked around Mt Peel, then looked at Mt Somers.

"I knew it was there, but hadn't really looked at it that closely, so I took a bit of a closer look and there were a few places for sale."
He bought an old weatherboard home on 2030sq m of land, and has been renovating that. And while he would rather not mention the price he paid, the sums were simple. "There's no way in hell I'd get that in Christchurch."

Wilkinson has been following the weather since he was a teenager in high school in Christchurch. Roping in schoolfriend Stephen Burrows to do the driving, the pair started chasing storms.
"He got into it because of that. He still lives in the city, but he's been chasing them in the US and in Darwin."

Wilkinson's interest was noticed by Tony Trewinnard, the founder of Blue Skies Weather, and he offered him a job straight out of high school.

He worked for Blue Skies for four years, before moving on to try something different; a year working at the Canterbury Museum as a collections technician. It was very different work.
"
Thousands of boxes of old bird bones, sitting in the basement, sorting through those for weeks at a time."

He still kept an eye on the weather, but after the high pressure of forecasting for a small operation, did not have to worry about it too much.

His career path swerved into The Warehouse, for two years as a nightfill staff member.

"It sounds like a step down, but I enjoyed it; staying up late, getting to sleep in."

But the weather was not going to leave Wilkinson alone. A series of connections saw him offered the chance to fill in for three months for WeatherWatch.co.nz, and while he initially was not keen to leap back into the high pressure world of forecasting, he decided to take it on.

"And it was OK, I did three hours a day, and did that before I went to The Warehouse in the evenings. I liked it, it wasn't so stressful, so I picked up my enthusiasm again for forecasting."

Forecasting for WeatherWatch.co.nz has become Wilkinson's main source of income; stormchasing is the hobby that sits comfortably alongside it. Technology means he can do his job from Mt Somers; he travels into Christchurch perhaps once a week, or so.

Ashburton is just 20 minutes away, so he says it is not like he is completely in the wop-wops.

Wilkinson's aware it is a somewhat unusual transition for someone of his age; to move from Christchurch to a small rural settlement. But he says while he is interested in seeing new places, he is happy to live in New Zealand.

"A know a lot of young people move to Oz, but I'm quite a passionate New Zealander."

His stormchasing hobby sees him gather up information such as lists of tornadoes in New Zealand since the early 1900s - there was a big twister around 1919-20 - and a collection of memories and photographs of particular weather events over the years.
"I can remember the 1992 snowstorm, and in 2002, a tornado that dropped into Tai Tapu, just south of Christchurch.

"There was big hail that day, and lightning, and I saw the tornado on the news that evening and thought, 'that looks pretty cool!'"
He tracked down the person who filmed the tornado, West Melton's John Gaul, a member of the New Zealand Thunderstorm Society, and inspiration to Wilkinson as one of the first people in New Zealand to chase storms.

To learn more about the weather, and how to see the storms coming, the schoolboy Wilkinson started teaching himself forecasting.

"When I started, it all sounded like gobbledegook, but eventually it started making sense."

Now, his day starts about 6am, checking that the forecasts he prepared the evening before are still accurate, and he will be checking his information every two hours during the day, making sure it is still accurate and updating when he needs to. From about 3.30pm on, he will put together a major update for the centres using WeatherWatch's services. He writes a national forecast each day, and a forecast for Sky TV's Country TV channel.

In between, he is looking for storms and tornadoes. Tornadoes are a bonus, but not all that frequent, but Wilkinson says he is likely to get just as excited over a good thunder and lightning display. He will travel - the West Coast can offer some spectacular storm-chasing experiences, but generally they come with torrential rain.
"Whereas in Canterbury, you can just sit on the outside of a storm."

Wilkinson says he has likened storm chasing to fishing; first you sit and think about what bait to use, and how to catch it - that's the forecasting.

"Then you're out there chasing it, putting your rod in the water ... and then you catch the big fish and tell all you mates about it! It's just a bit of fun really."

Why are we so interested in the weather, and whether it is going to snow or not?

"I guess in places like Alaska or Canada, where they probably get snow every winter, because they get it all the time it's not as interesting I guess. Whereas here,the weather tends to tease us."
Trying to forecast snow for places such as Christchurch and Timaru over the past week proved difficult.

"It was fluctuating so much, every six hours, it would be looking like minus 8, then minus 6, and it doesn't usually change that much.

"That's why it was a real pain, trying to nut out whether it was going to go to sea level or not. In Christchurch the other night, that heavy rain, it was probably to within 1.5 degrees of starting the process [of snow]. But it just didn't get cold enough.

"In Christchurch, because of all the snow talk, they were going berserk. I almost thought there were going to be riots if it didn't come."

To see some of Wilkinson's weather photographs, go tohttp://www.stormchasers.co.nz
Posted on July 05, 2013 at 8:03 AM
Posted by wwadmin on Mon, 24/12/2012 - 13:45

When someone talks about a "cyclone", they can mean several different things. Some of it depends on where in the world they are from. It can also depend on whether they are using the general term or a talking specifically about one particular type of storm.

First of all, let's start with the most general definition. A cyclone is simply an area of low pressure. The lower pressure is caused by the fact that air is rotating around the low whilst it spins inward. Like water does when you pop the drain on your sink.

These are your general, every day "lows". These are shown as a big "L" on a weather map. These are important factors in creating our daily weather. This indicates lifting air, which means an unstable atmosphere which in turn, can lead to clouds and precipitation. Air rotates around a cyclone in a clockwise direction here in the Southern Hemisphere.

Those cyclones can lead to other cyclones. Tornadoes are cyclones. In the middle part of the US, it is very common to use the two terms interchangeably. However, whilst all tornadoes are cyclones, not all cyclones are tornadoes.

A cyclone can also be a big storm. Like Tropical Cyclone Evan. But again, whilst these types of storms are all cyclones in that they are areas of low pressure, they don't all qualify as "Tropical Cyclones" in the way the term is used in Australia and the South Pacific. If the winds do not exceed 62km/h, then it is simply called a Tropical Disturbance, Tropical Depression, or Tropical Low. When the winds are at 63km/h or greater, then it is called a Category 1 Tropical Cyclone.

That same type of system in US waters of the Northeast Pacific or North Atlantic is called a Tropical Storm, but it's still a cyclone because it is still an area of low pressure.

After the winds exceed 118 km/h, it starts to get confusing. At that point, the storm is on the higher end of the Category 1 Hurricane classification according to the US. But in the northwestern Pacific it is called a Typhoon. In the northern Indian Ocean it could be called a Very Severe Cyclonic Storm. In the southwest Indian Ocean it would be called a Tropical Cyclone and in Australia and the south Pacific it would be a Category 3 Tropical Cyclone.

There are so many definitions of the term "Cyclone" and so many ways attempts have been made to classify cyclones, it's enough to make you dizzy.


By Howard Joseph, WeatherWatch.co.nz
http://www.weatherwatch.co.nz/...one-so-many-meanings...
Posted on December 28, 2012 at 9:47 PM
Posted by wwadmin on Wed, 19/12/2012 - 11:00

How does the globe look when the sun goes down? Earlier this month, scientists unveiled unprecedented snapshots of Earth at night. Global composite images, constructed from cloud-free nighttime images from the new NOAA-NASA Suomi NPP satellite, were showcased at the American Geophysical Union's annual meeting in San Francisco. The images reveal the glow of human and natural phenomena across the entire Earth in more detail than ever before.

Many of today's satellites are equipped to look at Earth during the day, when they can observe relatively bright objects ─ especially those illuminated by the sun. But the "day-night band" of the Visible Infrared Imaging Radiometer Suite (VIIRS) instrument on the Suomi NPP satellite is equipped with advanced technology that extends the view of Earth's atmosphere and surface into the nighttime hours.

In the new images, the first things to capture the eye are the planet's cities

"Nothing tells us more about the spread of humans across the Earth than city lights," said NOAA's Chris Elvidge. Elvidge has studied nighttime lights data since 1992, with satellite images far less precise than the news ones. "Even after 20 years, I'm always amazed at what city light images show us about human activity."


Unlike a camera that captures a picture in one exposure, the day-night band produces an image by repeatedly scanning a scene and resolving it as millions of individual picture elements or pixels. The day-night band goes further, however, to ensure that each pixel collects the right amount of light. If a pixel is very bright, a low-gain mode prevents the pixel from oversaturating. If the pixel is very dark, the signal will be strongly amplified.

"NOAA's National Weather Service is continuing to explore the use of the day-night band," said Mitch Goldberg, program scientist for NOAA's Joint Polar Satellite System, JPSS. "The very high resolution from VIIRS data will take forecasting weather events at night to a much higher level."

For example, the VIIRS day-night band watched the recent storm Sandy, illuminated by moonlight, as it made landfall over New Jersey on the evening of Oct. 29. Night time images showed the widespread power outages that left millions in darkness in the wake of the tremendous storm. By revealing such impacts of disaster on human life, the Suomi NPP imagery makes for a more complete view of storms like Sandy, which were previously observed primarily with infrared bands.

"For all the reasons that we need to see the Earth during the day, we also need to see the Earth at night," says Steve Miller, a researcher in NOAA's Cooperative Institute for Research in the Atmosphere at Colorado State University. "Unlike us humans, the Earth never sleeps."

Other phenomena observable with the day-night band become evident only at night. City lights reveal the human footprint on Earth in striking detail, which researchers have used to model the spatial distribution of economic activity. Carbon dioxide emissions from natural gas flares can be measured quantitatively. Fishing boats offshore in the Yellow and East China seas are seen to orient along political boundaries.

VIIRS is not the first instrument to look at nighttime lights. The U.S. Defense Meteorological Satellite Program has made observations with low-light sensors for 40 years. NOAA's well-known nighttime lights images derive from those satellite data. The new VIIRS day-night band can better detect and resolve Earth's night lights; it is sensitive enough to detect lights as small as a single street lamp and even the nocturnal glow produced by the Earth's own atmosphere.

You can see all the images athttp://earthobservatory.nasa.gov/NightLights....

All images/ NASA

By NOAA, NASA
WeatherWatch.co.nz
http://www.weatherwatch.co.nz/...ew-views-earth-night...
Posted on December 19, 2012 at 9:29 PM
Incredible photos of storms on Saturn were sent back to earth this week from NASA's Cassini Spacecraft.

The images show the spectacular vortex photographed on Tuesday from a distance of about 400,000 kilometres above Saturn.


The Cassini spacecraft has been traveling the Saturnian system in a set of tilted, orbits that give mission scientists a vertigo-inducing view of Saturn's polar regions. This perspective has yielded images of roiling storm clouds and the swirling vortex at the centre of Saturn's famed north polar hexagon.

NASA says this is not the first time a storm like this has been photographed by Cassini. In 2008, a similar storm was captured over the south pole.

The Cassini mission to Saturn began with its launch into space on 15 October 1997, arriving at Saturn for the first time nearly 7 years later on 30 June 2004.

-All images/ NASA/JPL

-By NASA/JPL and WeatherWatch.co.nz
http://www.weatherwatch.co.nz/content/saturns-stunning-storm...
Posted on December 02, 2012 at 9:30 PM
How The Weather Company survived a 1,000% traffic spike during Hurricane Sandy


Maintaining service during a massive and destructive storm can be difficult. But The Weather Company, a source for weather forecasts and data, found itself in the middle of its own storm during Hurricane Sandy, as panicked people pushed its website traffic levels literally 1,000 percent higher than normal.

Sandy's timing couldn't have been worse, as the Weather Company is in the early stages of a massive transformation, transitioning from 13 global data centers to managed hosting in Amazon's cloud.

Perhaps it was lucky number 13, however, because in spite of a Boston data center being caught in the storm, the company's 100-strong technical team maintained the site, apps, and services at a 99% uptime rating throughout the storm.

I talked to the Weather Company's chief information officer, Bryson Koehler, about how they did it.

"We saw double the traffic that we've ever seen before on our digital platforms," Koehler told me. "We had to handle 10X the traffic we've ever had before."

The Weather Company delivers news on basically any medium you can imagine: the original TV show, smartphone apps, tablet apps, live streaming video online, print, radio, and APIs for partners all over the globe. On a typical day, the company serves the equivalent of about 40 million pageviews on its digital platforms, and it has previously seen service interruptions when the number approached only 120-140 million.

But on Monday, the company was serving 110 gigabytes of data per second, almost without a hiccup, not counting the livestreams — 170 thousand simultaneous streams of live video, pushed out over the Internet.

The question is: how?

While the Amazon Web Services integration is still mainly in the future, The Weather Company did have several hundred instances running at 100% capacity, Koehler said, telling me that the scalability was "exactly what you would expect," as was the cost efficiency.

But the company had significant help from three additional critical partners.

"We relied very heavily on three partners that helped us deal with the sudden surge: Verizon, Akamai, Google were great throughout the storm."

Akamai, of course, accelerates and distributes site load. Verizon manages some of the company's data centers and much of its networking infrastructure, adding gigabytes of capacity literally in real time during the course of the hurricane. Google manages the livestreams, as The Weather Company delivers live video via a partnership with YouTube.

But the 13 data centers were key to the service's resilience. Like any large organization that has been built over time and acquired other companies, Koehler said, there's a mix of technologies.

"You end up with a good bunch of technologies that come together, but for the most part, we run Linux servers, Apache for web serving, Tomcat for our app server, and VMware for virtualization. MySQL is our core weather database."

More than the technology, though, Koehler said it's about the team. The Weather Company put together a 100-person hurricane team: technicians, system administrators, and networking specialists. "We were very prepared," he said.


Read more athttp://venturebeat.com/2012/11/02/how-the-weather-company-survived-...
Posted on November 09, 2012 at 3:29 PM